Great Barbecue Recipe #3: Yankee Doodle's Vegan Macaroni
With Independence Day right around the corner, it is definitely barbeque season! However, this is 2012, and it is a given that not all of your guests will be carnivores waiting eagerly alongside the grill. Of course you can always throw on some veggie burgers or tofu dogs, but why not try this vegan spin on a classic barbeque side? We bet that even your meat eating guests won't even be able to tell the difference!
What you'll need:
4 cups uncooked elbow macaroni (make sure it's egg-free)
1 cup vegan mayonnaise (Vegenaise is a popular brand)
1/4 cup distilled white vinegar
2/3 cup white sugar
2 1/2 tablespoons prepared yellow mustard
1 1/2 teaspoons salt
1/2 teaspoon ground black pepper
1 large onion, chopped
2 stalks celery, chopped
1 cup garbanzo beans, drained
How to do it:
Cook macaroni until tender. Rinse under cold water and drain.
In a large bowl mix together the mayonnaise, vinegar, sugar, mustard, salt and pepper.
Stir in the macaroni, onion, celery and garbanzo beans.
Refrigerate for at least 4 hours before serving.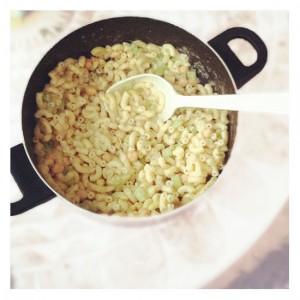 *This is an original Studio K&M recipe. We'd love to hear your reviews or your own recipes, reach out to us on Twitter @StudioKandM!