The 12 Days of Usability (1/2)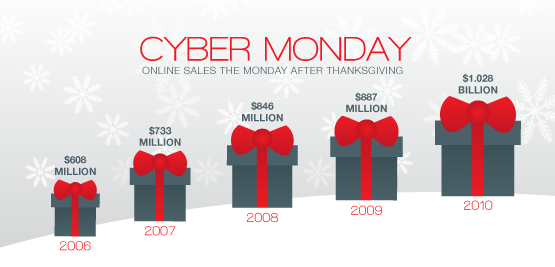 Cyber Monday falls on November 28th, the week after Thanksgiving. Every year more people are beginning their shopping season online by taking advantage of Cyber Monday's online-only deals.
As shown above, Americans spent a whopping $32.6 billion dollars online last November and December, up 12% from the year before. With all of these consumers doing their holiday shopping over the Internet, how do you convince them to buy your products?
For starters, having the right products is not enough in the highly competitive world of e-commerce. Appealing to your consumers through a highly usable site will not only foster increased sales, but also provide a pleasing experience that will lead to returning customers.
A Partridge In a Pear Tree

So now that your partridge (user) is in your pear tree (website), you have to find a way to keep them there. So rather than putting that little birdy in a cage, why not use something akin to a bird feeder? Give your partridge the right visual treats and they'll keep flitting around for more. That's why a well-organized and usable site is the best way to keep people from abandoning their shopping carts.
Two Turtle Doves

Intimidated by the idea of doing all of your holiday shopping online? The experience can be as peaceful as a turtle dove! Just think about it, no long lines, parking lots, or fighting people over the last iPad on the shelf. Missing the muzak? Try searching for your favorite genre of holiday tunes on a site like Pandora.
Three French Hens

If you owned three French Hens, would you hide them in the basement? Of course not! Similarly, there are three important things on your website that should NEVER be hidden in the basement, i.e., below the fold: Navigation, Contact Info, and a Shopping Cart. Don't make users scroll to find these crucial elements on your site.
Four Calling Birds

Don't be afraid to contact customer service. Many sites now offer chat-based support which gets you off the phone and away from that terrible muzak! It's a great way to get answers to all of your questions regarding your order.
Five Golden Rings

If your company is golden, your site should be too. Security badges, trust certificates and SSL certificates are the bling of e-commerce sites. Wear them proudly like the mogul you are-or want to be someday!
Six Geese a Laying

Verifying a site's legitimacy shouldn't turn into a wild goose chase. Err on the side of caution, and never buy anything from a site that doesn't have Secure Sockets Layer (SSL) encryption. This is represented by a lock symbol, and the site URL should read https:// instead of just http://.
This is the first half of a two part series on e-commerce usability and the holidays. Stay tuned for more tips for both sellers and shoppers. And follow us on Twitter for more usability tips and updates! @StudioKandM